SHU was carefully developed for daily moisturizing and extremely fast healing.
Many other products add glycerin and/or types of liquid plastics like silicone for a feeling of temporary moisture and relief. Neither of these actually feed the cells, but instead, put a band-aid layer over the skin like seran wrap that can wow for a couple of hours. These are nowhere near as breathable as a healthy dose of triglycerides and vitamins.
Ghana Shea and Burkina Fasso Shea: I have combined both shea butters here for maximum benefit of both. Shea butter is full of stearic acid, which is deeply cleansing and helpful for acne and skin issues that need a "bring it up and out" approach. Tired of paying for an expensive "Vitamin A cream"? Shea butter is a vitamin A AND vitamin E cream in one. So the base of your moisturizer is on solid ground.
Hazelnut Oil- hazelnut oil is a highly penetrative due to a good percentage of polyphenols. It has also been shown to be effective for acne because it is anti-inflammatory and astringent.
Ucuuba Butter- This has always been the secret powerhouse of SHU. Ucuuba is in the nutmeg family and has helped immensely with eczema and psoriasis. It is extremely rich in fatty acids, is anti-bacterial, and is said to be especially helpful for mature skin in toning and brightening the complexion.

Karanja Seed Oil- **NEW to SHU**** with very good reason. It cleared up my oldest daughter's acne in 2 days- and she has very bad acne when she fails to use her facewash and lotion. Karanja is in the same family with neem but has a much less offensive odor. It is very high in triglycerides, which are extremely important in creating a magical protective barrier over your skin without clogging pores. This oil is also high in flavonoids, which are anti-oxidants and very astringent. Tannic acid is present in karanja seed oil. Tannic acid treats rashes, fever blisters, and other irritations or bacterial infections.
Karanja is an extremely well-rounded oil with so many benefits that it is easy to see how it further improves the efficacy of SHU. For those who have used the original version of SHU, this is the ingredient that makes a much more silky feel.
Frankincense Oil- Frankincense made its way into Brazen Bee products the moment I heard that research shows it kills skin cancer cells. Skin cancer is one of the most common cancers and anything that we can do as a preventative measure should be taken. I am not purporting that your facewash will prevent skin cancer in any way, but the research should be looked at and judged accordingly. Aromatherapy: spiritually grounding
Lavender Oil- Lavender is one of the most well-known skin soothers around. With a high amount of linalool, this wonderful oil is used across most skin care formulas because it simply works. It also helps to heal scars and diminish redness. Aromatherapy: soothing
Elemi Oil- Here is the third new ingredient to SHU. Elem
SHU used to have Abyssinian Oil, which is now unavailable. We have moved over into using Camellia Seed (Green Tea Seed) and Organic Unrefined Almond Oil in place of the Abyssinian Oil. I think everyone will be happy with this!
Total Ingredients: Shea Butter (refined and unrefined blend), Hazelnut Oil, Camellia Seed Oil, Organic Unrefined Almond Oil, Ucuuba Butter, Karanja Oil. Essential Oils: Frankincense, Lavender, Elemi
Here is a 2 part video on using Oil in your skincare regimen!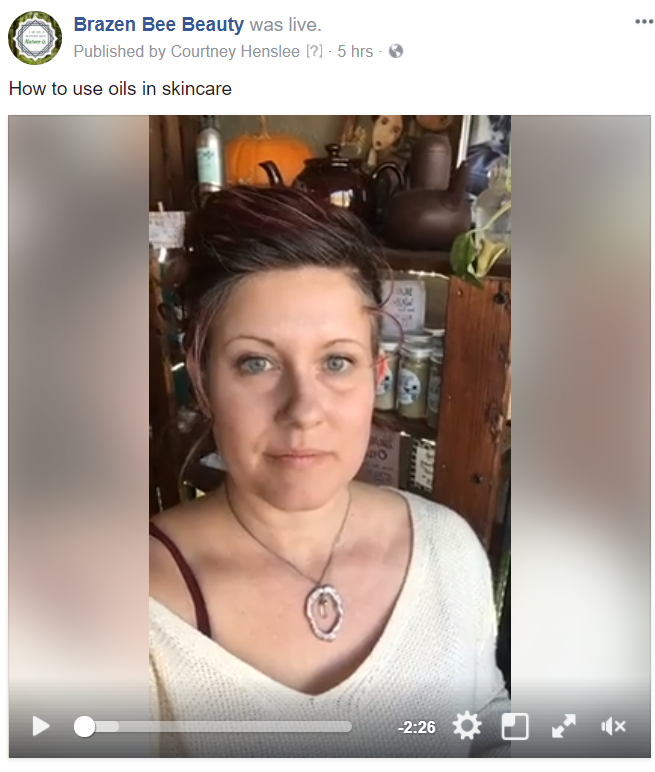 Customer Reviews (39)
My 54 year old face loves it! It is so silky soft and hydrated
This is legit the best lotion/ cream I've ever used. A little goes a long way and it heals! Brazen Bee's products are the only thing that have worked to clear my acne after struggling for almost a year with continuous breakouts. I'm never going back to anything else. Customer for life!!
Every product at this company is incredible, but this is my absolutely favorite. First, I love the way it smells. I didn't realize how perfume-y my old stuff was (before bb). Shu smells pure and natural...is that a smell? :) Just like with every bb product I've tried, you just need an extremely small amount for the entire face/neck area. I definitely was overusing it for the first several days until I got used to how little is needed. If you're looking for a good face wash to pair with Shu, I'd recommend Georgia Sweet. These two products together have made more difference to my skin than other products that I've used in the past that cost way too much $$. Highly recommend Shu!!
I use this on myself(switching between this, Stiletto, & Easy A) and my teen son uses it as well to help with breakouts and it keeps his dry skin so moisturized. I am in love with the scent and the way it feels.
I've used both the SHU and Stiletto moisturizers and they're fabulous! A little goes a long way, and really help with any redness I might have going on. Blemishes heal super fast and skin is rarely dry/flaky since using them. I ran out and used store-bought "natural" product for a couple weeks before ordering more and NEVER AGAIN. I had more break-outs, that lasted longer, in those few weeks than I ever have using the awesome Brazen Bee products. Lesson learned!!
Like duct tape only better
This moisturizer has turned out to be my go-to for more than moisturizing. It has helped heal and clear any acne I had after using for a month! I have also used it on a couple of minor boo boos my daughter had and it helped heal them very well!
I bought Shu for my mom who has extremely dry and itchy ears due not producing ear wax. For the first time in my life she is not constantly itching her ears and there is no flaky skin anymore. Amazing!
So many uses and so perfect. This stuff is good for EVERYTHING. I use this on my face ( i have oily, aging and sometime broken out skin) , I also use it on my elbows, hands and anywhere else i have dry skin. This is truly one of the best moisturizers I have ever used. The price is phenomenal and the stuff lasts forever
My face has never been so soft!
I am almost finished with my first jar of this amazing moisturizer and will most definitely purchase again and would recommend this to anyone......I actually do because it is a life changer. I am still trying to decide if Shu or Stiletto is my favorite because it's a hard choice- they both are so amazing. The quality of these products just blows my mind! I am truly amazed by the lack of BS ingredients and can't believe how many YEARS I put a bunch of crap on my face! This is simple stuff that works like magic. Shu makes my skin so happy and the results are undeniable!
I have struggled for years with "adult acne." Nothing was ever so discouraging as passing the point of puberty to adulthood and STILL having acne. I started using Shu and my skin has never looked nor felt better. Love this!!
Wow! With having oily skin, I thought putting oil on my skin would be counter productive, but my skin has been thriving! My skin has not been as oily throughout the day as it has been my entire life.
Just Get This. Seriously.
I can't say enough about this moisturizer. Seriously. It's magic in a jar. I ran out of facewash for close to two months. I refused to go back to regular facewash. I used SHU almost every day and never had a breakout due to my face being "oily". And if I did break out, it was gone within days thanks to SHU. This stuff soothes boils and helps clear them up. Something about the deep moisturizer really makes a difference. I've used this on dry, itchy skin and random rashes. Seriously. It works. Get this. You will not regret it. My small jar has lasted over 6 months and I use it all the time.
This stuff is killer! I have super dry skin, and when I'm sick, tissue usage makes my nose and cheeks raw. Kind of like a chemical burn. This moisturizer has been a god send! It keeps my skin moisturized and helps me not be in pain. Lately, I've actually been using it on my hands too. It makes them so soft.
Best moisturizer I've ever used!
Best moisturizer I've ever used (and I have used thousands)! My skin is very sensitive, and this stuff soaks right in. I adore the texture. It's a very fluffy, whipped-like texture. Smells fantastic. Gives me a youthful glow. I'm often mistaken for much younger than I am since using this goddess cream.
I was skeptical, at first, to use an oil-based moisturizer because of my acne, but I do not regret it! After a couple weeks of slathering strong acne cream on face, my skin was very dry and I was seeing lines and cracks because of it (I'm only 21!! Not okay!). So I pulled out my sample of SHU Moisturizer and put it on after the shower and before I went to bed and woke up HEALED! My skin no longer felt tight and dry and color came back to my cheeks. After using it for about 1-2 weeks, I even noticed my slight dark spots from old acne scabs/scars were fading! Absolutely amazing!! I bought my first full bottle and I'm so excited!
I wish I could hug you it's so good
I suffer from acne, large pores, and oily skin. After using this for a month, my skin has never looked so good. My skin is supple and has a certain glow to it from being so well moisturized! I used to wake up with the "11s" between my brows, but not anymore. On another note, my acne is under control and my pores appear smaller (I assume from being cleaner thanks to your Melee fash wash and oil cleansing). You deserve an award.
I wasn't sure quite what to expect when I purchased this moisturizer, but I am so incredibly glad I did. After only two days of using it, I'm already noticing a vast improvement. My face is usually dry and flaky after showering, but now it's so amazingly soft and smooth. I will be recommending this to everyone I know (while awkwardly telling them to feel my face!) and will most definitely be purchasing again.
Love love love this moisturizer!!! It actually helps reduce my oily skin, something that I've never had a moisturizer do before! It's also helping clear up my acne scars, I've only been using it for 5 days and I can see a difference. I'm hooked!!
I bought this cream initially to help treat my combination psoriasis/eczema on my legs. Not only has it reduced roughness and redness in just two weeks of using it daily, but I also discovered it's great as an oil cleanser! Courtney has won me over on the anti-soap campaign. This stuff works great at cleaning all the gunk and makeup off my face at the end of the night without leaving my skin feeling attacked afterwards. I love it.
This stuff is GREAT!!! I bought it for myself (which by the way works wonders on my face!),but after reading more on it, I decided to us it on the rough bottom of my husbands feet. They were cracked and SO dry! I put it on before bedtime and when I went to use it again the next night, the cracks had almost vanished! This has made me a believer!
literally feel it healing skin
I've used hundreds of products having worked at a major cosmetic retailer. THIS puts them all to shame. Hydration my skin needs and actually helps reduce my suped up oil production. Had a bad reaction and itchy face for a month before trying this. Instant soothing and healing. HIGHLY recommend.
Makes my skin feel amazing!!
I still haven't decided if I prefer Stiletto or Shu but this stuff is amazing! I got lucky enough to buy it on sale and I use it for everything. Facial moisturizer, dry skin patches, raw skin...whatever. It helps with everything. I highly recommend you try it, especially if you are prone to itchy or dry skin.
I have never been able to fix a moisturizer that works for me. They either burn my face, or in most cases don't actually moisturize, but this stuff is amazing and has helped alot with my pores and acne. I absolutely love it.
After years and years of trying to find something to heal my acne and months for my baby's eczema...we finally found something that's truly natural and really works!! I'm so glad I found these products. Truly a lifesaver :)
Love Love this moisturizer
It keeps my skin healthy and vibrant. I went to Courtney when I started to notice my ever normal and balanced skin starting to show signs of age, she knew exactly what to do and started me on a easy daily regimen. Yes, SHU, and Stiletto, are thick and can feel a oily. But fear not it is exactly what your skin needs to balance itself out. The travel tubes are fantastic for your purse or the gym, a little goes a long way.
Who Knew SHU would be the best
I was a little afraid to try SHU on my face during the humid summer of DC but it great. It's better than great. It keeps my skin moist but doesn't feel greasy or oily. My skin is soft all day. This is the perfect moisturizer for my face. Can't wait to see how not dry my skin is this winter.
Combined w/eff off - the best
This is the best moisturizer I have ever tried. It's rich, smells great, and seriously leaves my face looking amazing. It does have a lot of moisture. if you prefer a more matte look, this may not be the one for you. I have naturally oily skin and this gives me excellent balance and keeps me from breaking out, and it looks really pretty and glowy on my skin. I sometimes put some powder sunscreen over it if it seems like i put on too much - a little goes a long way!
I'm in Houston, and it's really humid, so my skin never gets that dry to begin with. BUT. This stuff is great. A small tub lasts a LONG time. It helps with dry lips, all sorts of skin issues, and just adds so much moisture, even for those of us who don't really need it.
OMG....best product ever!!!!!!!!!
Words cannot describe how SHU has changed my life!!!!!!! This is the best moisturizer ever!!!!' I've probably spent hundreds, maybe thousands of dollars on moisturizers. I constantly have a dry nose due to allergies and just dry skin in general. NOTHING has ever worked. I've even used utter balm! And then I discovered SHU.... And oh how my life changed! It is light, not heavy, not thick, goes on smooth and soaks in! And then guess what....it works!!!!! You can out it on any dry spot on your body and will work and it does not take allot. My jar goes a long way. I'm in love!!!! ❤️❤️❤️
It took me a while to warm up to this product. Not because there is anything wrong with it, but because I'm sometimes skeptical of different things. I was thinking it would be more lotion-like but when I opened the jar it seemed somewhat hard. But then I got some on my fingers and when I started putting it on my face, my body temp warmed it up and it spread easy. You only need a little bit and that soft feeling lasts all day. I think that's my favorite part, hours later and my face still feels great.
I use SHU instead of washing my face with face wash. It was really hard for me to not wash my face anymore, but I really do feel like I have notice a great improvement overall on my face. I also use this as my regular moisturizer every morning. SHU doesn't have a strong smell.
I use SHU for moisturizing when I get out of the shower. I have used it to remove my eye makeup and moisturize around my eyes and my hands at night. I will occasionally use it on my face when I have a dry spot, but I find it too heavy to use as a facial moisturizer. It works to soften your lips as well! I use it on my eczema and other irritations, and it generally heals it pretty quickly.
What can I even say? This stuff is crazy awesome. I had super oily uneven acne-covered skin. Not anymore. My skin has a nice normal oil level now. I use SHU every night and wake up with dewy younger looking skin (okay I'm only 27 but 12 years of acne has left my skin a bit rough!). I often use it in the morning too especially if I'm breaking out, it soaks in and makes my skin look nice (but it and my powder foundation don't really work together). I used it on a pretty nasty sunburn a few weeks ago and it helped sooo much. It's pretty incredible stuff!
SHU has fixed every skin issue I've used it for - Eczema, athlete's foot, mosquito bites. I was absolutely amazing that it cleared up my foot fungal issues in just TWO applications. So happy with the sample I tried that I bought a container of it for use in our home. I'd recommend keeping some in your home always.
I had a horrible rash all around my mouth and eyes, presumably from very hard water in the new place I recently moved into. I tried many things, mostly all natural, from organic face washes to cocoa butter soaps, apple cider vinegar, coconut oil, shea butter... some things helped a little but nothing got rid of it completely. After 2 months of this red, inflamed rash complete with dry, flaky skin, I was fed up and feeling awful. Then I came across Brazen Bee and I ordered this SHU moisturizer along with the Chally HA oil cleanser and EffOff face wash. After just a week of using the oil cleanser and this healing moisturizer, my face was almost completely better, and my spirits were lifted. I incorporated the EffOff into my weekly routine once the rash was better since it is a bit more intense and too strong when I had the rash, but wonderful now that it's healed. I couldn't be more happy with Brazen Bee's products. I was so downtrodden dealing with this unsightly and itchy rash I thought might never go away, and my brazen bee purchases cleared it all up in no time, and my usual dry skin is more moisturized than ever. Highly highly recommend this stuff! It is the best nutrition for your skin!
Here's the review from my 15 year old daughter-This product is absolutely amazing. I have always had dry skin (especially after washing my face) . I put on my Shu after I wash my face at night and it smoothes out my face and the relaxing smell helps me sleep. I sometimes put this on after I use the Eff Off Face Wash and it " calms down" my irritated pimples/ blemishes. I highly recommend this product for anyone!
faaaabulous multi-purpose moisturizer & cleanser
This stuff is a miracle worker! Absolutely a cure-all, especially in my skin's biggest time of need: the winter. This stuff cures that dry ouchy skin under your nose when you've got the sniffles. It heals your heels (and your elbows). The earthy scent makes it comforting as well. After using SHU, you'll toss aside any other moisturizer you'd been using on your cracked skin.
I use this sh*t on everything!
It is wonderful for its designed purpose: moisturizing the face after washing because you can't use too much of it! Unlike moisturizers that sit on top of the face, this gets absorbed into the skin and tells your oil production to chill out while simultaneously killing bacteria, protecting from wind and the elements. I used to think I had oily skin until I started using this and realized that I had dry skin that was wearing itself out compensating for harsh cleansers and ineffective moisturizers. In addition to facial moisturizer, I use it on dry hands after washing dishes, diaper rash, hair mask/styling product, healing mild burns/cuts, after-shave on the legs, etc. My life is incomplete without it!
Write a Review